---
About

There are four 'picks' above. General content is categorised to the left. Below is a more traditional chronological blog.
Twitter, RSS, Github, Full Bio.
Team / Process / Interviewing (all)
There is an intuition we all share that RAM is faster than disk. This is a general truth, despite there being examples to the contrary. It's not surprising then that in-memory technologies remain popular in the data space. Yet they're not without downsides. Some obvious, some less so.
Lets consider why we use disk at all. To gain a degree of fault tolerance is common. We want to be able to pull the plug without fear of losing data. But if we have the data safely held elsewhere this isn't such a big deal.
Disk is also useful for providing extra storage. Allowing us to 'overflow' our available memory. This can become painful, if we take the concept too far. The sluggish performance of an overladed PC that's constantly paging memory to and from disk in an intuitive example, but this approach actually proves to be very successful in many data technologies, when the commonly used dataset fits largely in memory. (more…)
---
Contemporary Approaches to Data at Scale (tbc)
We use a host of tricks these days for handling data at scale. Disk structures are tuned to specific workloads. Streams are used to create continuous pipelines of processing. Hardware offers incredible diversity in terms of latency and throughput.
The tools available: Cassandra, Postgres, Hadoop, Kafka, Hazelcast, Storm etc all come with tradeoffs unique to themselves. We'll look at these as individual elements. We'll also look at compositions that leverage these individual sweet spots to create more powerful, holistic platforms.
---
The Future of Data Technology (6th Nov 15.40)
No longer does one-size-fit-all when it comes to data technology. At least not for many of today's use cases. Will this ever change? Will we continue to diversify? Will we go full circle? Certainly ours is an industry in flux. NoSQL, Big Data and stream technology, containerisation, commodity PCIe storage, non-volatile memory and a host of other forces will shape the data technologies of the future. 
In this talk will make a case for what the future may look like, what challenges we'll encounter and how it will likely change the applications we build. 
Elements of Scale: Composing And Scaling Data Platforms (5th Nov 14.20)
Today there are a host of data-centric challenges that need more than a single technology to solve. Data platforms step in, blending different technologies to solve a common goal. 
But to compose such platforms we need an understanding of the tradeoffs of each constituent part: their sweet spots, how they complement one another and what sacrifices they make in return.
This talk is really a grand tour of these evolutionary forces. We'll cover a lot of ground, building up from disk formats right through to fully distributed, streaming and batch driven architectures. In the end we should see how these various pieces come together to form a pleasant and useful whole. 
---
Intuitions for Scaling Data-Centric Architectures (14th Oct 11.20)
This talk will examine the various intuitions and trade-offs needed to scale a data-centric application or architecture. Building from the fundamentals of data locality, immutability and parallelism, attendees will gain a sense for how fully blown architectures can be sewn together. The result: a balance of real-time storage, streaming and analytics that plays to the relative strengths of different component parts.
---
This post is the transcript from a talk, of the same name, given at Progscon & JAX Finance 2015.
There is a video also.
As software engineers we are inevitably affected by the tools we surround ourselves with. Languages, frameworks, even processes all act to shape the software we build.
Likewise databases, which have trodden a very specific path, inevitably affect the way we treat mutability and share state in our applications.
Over the last decade we've explored what the world might look like had we taken a different path. Small open source projects try out different ideas. These grow. They are composed with others. The platforms that result utilise suites of tools, with each component often leveraging some fundamental hardware or systemic efficiency. The result, platforms that solve problems too unwieldy or too specific to work within any single tool.
So today's data platforms range greatly in complexity. From simple caching layers or polyglotic persistence right through to wholly integrated data pipelines. There are many paths. They go to many different places. In some of these places at least, nice things are found.
So the aim for this talk is to explain how and why some of these popular approaches work. We'll do this by first considering the building blocks from which they are composed. These are the intuitions we'll need to pull together the bigger stuff later on.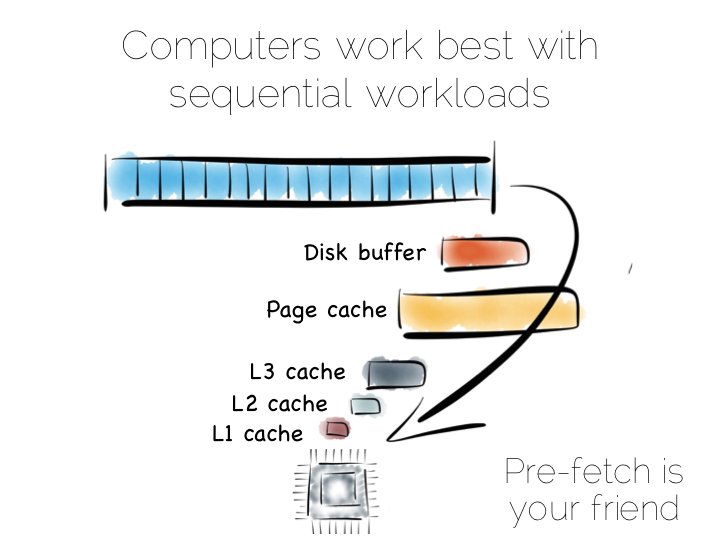 ---
Remember the days when people would write entire applications, embedded inside a database? It seems a bit crazy now when you think about it. Imagine writing an entire application in SQL. I worked on a beast like that, very briefly, in the late 1990s. It had a few shell scripts but everything else was SQL. Everything. Suffice to say it wasn't much fun – you can probably imagine – but there was a slightly perverse simplicity to the whole thing.
So Martin Kleppmann did a talk recently around the idea of turning databases inside out. I like this idea. It's a nice way to frame a problem that has lurked unresolved for years. To paraphrase somewhat… databases do very cool stuff: caching, indexes, replication, materialised views. These are very cool things. They do them well too. It's a shame that they're locked in a world dislocated from general consumer programs.
There are also a few things missing, like databases don't really do events, streams, messaging, whatever you want to call it. Some newer ones do, but none cover what you might call 'general purpose' streams. This means the query-driven paradigm often leaks into the application space. Applications end up circling around centralised mutable state. Whilst there are valid use cases for this, the rigid and synchronous world produced can be counterproductive for many types of programs. 
---
View full blogroll
---