Thoughts on Big Data Technologies (4): Our Love-Hate relationship with the Relational Database
Joe Hellerstein, from Berkeley, did an fascinating talk at the 'High Performance Transaction Systems Workshop' (HTPS) way back in 2001 entitled "We Lose". It's a retrospective on the state of the database field just after the dot-com bubble focussing particularly on their lack of uptake with the young internet companies of that time. He observes  (and I'm paraphrasing) that the grassroots use file systems, not databases. That the 'cool new internet space' is lost and they (the database industry) are forced to remain in the doldrums of the Enterprise Space as databases are black boxes that require a lot of coaxing to get maximum performance. Yet databases do some very cool stuff: Statistically based optimisers, compression, distributed queries etc. These are some of the most interesting problems in Computer Science. Yet in his words 'Only the standard enterprise folks will come to us, tail-between-legs'.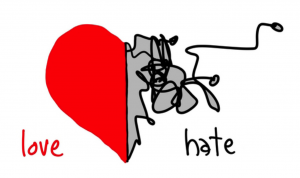 The reality is that, even in the enterprise space, there is a 'love and hate' relationship with database technologies. The success of distributed caches (long before the whole NoSQL thing took off) are good evidence of this. People loved using caching as it decoupled them from the limitations of traditional relational solutions. There is no impedance mismatch; what you put in is what you got out. They 'talk our language' so to speak. They also free us from the database's most fundamental (albeit laudable) attribute: its default to constraint. These differences hold true for NoSQL too.
NoSQL technologies free us from the database's most fundamental (yet laudable) attribute: its default to constraint
Yet databases are wonderful tools for keeping our data safe. It takes a lot of effort to corrupt the data in a mature database. It takes a lot of effort to read something you didn't expect to read. They lock up our most precious commodity, ensuring that it is retained unblemished. The problem is that with all that constraint, working around the performance concern you will likely encounter can be a painful process. Databases traditionally require a lot of coaxing to make them to perform.
So no surprise with the NoSQL field then I guess. Tools that provide simpler contracts over shared nothing architectures. No joins, no ACID, no impedance mismatch, no sluggish schema evolution. Performance is achieved through simple code paths and adding hardware rather than painful tuning. The NoSQL field really has been disruptive. It solves a problem of the moment, scalable access to data, without all the rigmarole of traditional database systems. Not because the database mentality is wrong, but more because our problems of the day favour scalability over consistency and isolation. Simple solutions like this that have less constraint are often today just a much better fit.
But there is another side to the story. It's not all NoSQL and Hadoop!
If we look past the 'corporate giants' of the database world to the younger upstart vendors, particularly in the analytics space, we see a surprisingly different landscape. These guys don't look much like their blue chip, corporate brethren so any preconceptions acquired from experiences with Oracle, SQL Server, DB2 etc should be left by the door. Michael Stonebraker summed up the problem well in a paper "The End of an Architectural Era (It's Time for a Complete Rewrite)",  Here he predicts the dissolution of the traditional database architecture that has sat with us for the last twenty five years. His alternative is actually one of many but none the less it is a call to the wise. His contention is that a one-size-fits-all solution is no longer competitive, be it the fast lightweight transactions of ecommerce or the heavy analytical workloads of enterprise data warehousing. Rearchitecting for different points in the performance trade-off curve leaves traditional architectures lacking.
This is important from the perspective of the big data movement because these new or previously niche technologies are now serious contenders for big data. The architectural shifts are not new per say: in-memory technology, column orientation and shared nothing architectures have been around for many years but only recently have hardware advances allowed them to be serious contenders. Whether deliberate or not, some of these new database technologies are looking more and more like their NoSQL counterparts. The market has seen a small explosion of new start-ups in the data warehousing space with architectures designed for the hardware of today, not what we had a decade ago: Large address spaces into the terabytes, SSD drives which provide fast random access and Gb or infiniband networks dropping latencies to the low microseconds.
ParAccel is typical of this new breed. It has ACID properties, supports joins but has no provision for referential integrity. Even more striking, its order of magnitude improvement over older warehousing technologies stands in the complete absence of any traditional indexing strategies (although this is really due to it being columnar meaning all columns are, to some degree, indexed by default). Exasol is another good example, a tiny company based in Germany with a product of around five years of age (and as far as I know no sales outside of Germany), yet it tops the TPC-H benchmarks in almost every category (see here) being up to twenty times faster then its nearest rivals.
Solid data from any angle, bounded in terms of scale, but with a boundary that is rapidly expanding
The point is that database technology is itself changing. The 'big three' vendors are being threatened by younger upstart technologies that show significant improvements over big data and high frequency workloads. MapReduce is not the only answer for large datasets. Datawarehousing tools have been doing it for many years and are getting better and better. They are selecting different architectural traits to their predecessors, leveraging the different performance profile of modern hardware, but they still come from a different approach: Solid data from any angle, bounded in terms of scale, but with a boundary that is rapidly expanding.
See also:
Thoughts on Big Data Technologies (Part 1)
Thoughts on Big Data Technologies (Part 2): How big is Big?
Thoughts on Big Data Technologies (Part 3): Objections Worth Thinking About
---